President:
Jack Lomano – jmlomano@gmail.com – 239-470-8809
Vice President:
Karen Babcock – kank239@aol.com – 239-338-8821
Secretary:
Cathy Hamilton- 239-272-2897 – CathyHamiltonRealtor@hotmail.com
Treasurer / Membership:
Jay Zachman – 330-697-2660 – jwzachman@aol.com
Past President:
Melinda Shaw – 239-280-8389 – osubuckeyes1963@aol.com
Communications Chair:
Jeff Fuscardo – 239-826-7186 – fuscardo@ipapilot.org
Scholarship Chair:
Dr. Mike Collier – mcollier11457@gmail.com
Community Service Chair:  
Sue Miles – smiles1864@cs.com
Events Chair:
Pat Whidden – pbwhidden@gmail.com – 615-719-2447
Directors:
Mark Wonus – mwwonus@aol.com – 239-677-8674
Jennie Phipps – jennielp@gmail.com – 248-207-0056
Steven Kamel – steven.kamel@alliantproperty.com
Jack Lomano
President
Bachelor degree from OSU in 1963. Finished Medical School and Residency at Ohio State in 1971. Practiced medicine in Columbus until 1991 when he moved to Florida and practiced for another 5 years. An avid Ohio State fan who enjoys boating, fishing and gardening. I am proud to be a Buckeye fan and look forward to serving on the Board of the Alumni Club of Southwest Florida.
Karen Babcock
Vice President
I was born in Columbus, Ohio and graduated from Bexley High School.  I graduated from The Ohio State University in 1989.  I have lived in Florida for almost 20 years.   I work for a national healthcare company managing the facility leases.  I recently got married and we have one furkid named Scarlet An' Gray, of course. I have just recently joined Club and am excited to be on the Board and serve as the Vice President.
Melinda Shaw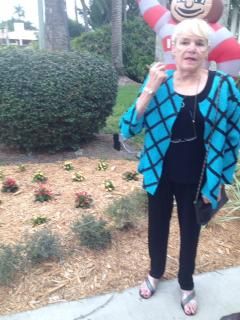 Past President
Melinda is a 1963 graduate of OSU in accounting. She and husband Darrel sold their business of 20 years ( Hi Tech Pools & Solar) last year to retire. Mother of two, grandmother of 7, Melinda's hobbies include playing bridge, tennis and reading.
Cathy Hamilton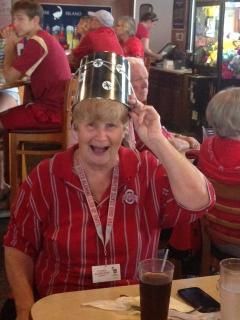 Secretary
Cathy was born in Indianapolis IN. She is the mother of four and grandmother of ten. Cathy moved to SWFL in 2001, while working for National City Bank, before she retired in 2003. Currently, she is licensed as a Real Estate Broker Agent at Keller Williams Elite Realty and loves helping buyers and sellers with their real estate needs. She loves helping the club at the Game Watch parties and other activities. Her hobbies include dancing, traveling, Buckeye sports and meeting other Buckeyes around the world. Go Bucks!
Jay Zachman
Treasurer/ Membership
 Born and raised in Cincinnati and went to The Ohio State for both my undergraduate degree in Agriculture (1975), and my doctorate in Veterinary Medicine (1978). I am currently semi retired and enjoying the Florida sunshine.   My wife, Janis, my dog, Buckeye, and I live in Crown Colony in Ft. Myers.  As always "How firm thy friendship O-H-I-O".
Pat Whidden
Events Chair
Raised in Erie County, Ohio.  Graduated from Ohio State with Bachelor of Science in Agriculture, Animal Science (1970).  Career in agribusiness, with experiences ranging from the dirty boots to the board room.  Jobs took me to residences in Texas, to Florida, to Ohio, to Florida, to Tennessee, and back to Florida.  With wife Cindy, all the while an engaged and passionate Buckeye.
Jeff Fuscardo
Technology/ Communication Chair
Jeff was born and raised in Wheeling, WV. He completed his BA in Aviation Management in 1992. After flight instructing at Ohio State, he moved to Florida to pursue his aviation career. Currently, Jeff is a pilot for UPS. He flies the Boeing 767 on international routes taking him around the world where he is sometimes forced to watch the Buckeyes on the internet. Jeff has lived in Ft. Myers since 2001 with his two Buck-nuts, Jake and Jeffrey.
Sue Miles
Community Service
I was born in Columbus, Ohio and graduated from West High School and graduated from Medical Assisting school. I have been married to my husband, Tim for 45 years and we have a daughter, Courtney and a granddaughter, Hannah. We have lived in Cape Coral for 23 years. We have been members of the Buckeye Alumni club off and on for many years. This is the first time I have served on the Board, and I am honored to do so. I enjoy traveling (Disney, Las Vegas to name a few) reading, my pool and spending time with Hannah. I have worked for Lee Memorial Hospital for 7 years. I will be heading up the Military Supportprogram for the club this year and hope we can exceed last year's goal.
Mark Wonus
Director
Jennie Phipps
Director
Steven Kamel
Director
Steve is a 2007 graduate from Ohio State's College of Arts and Sciences.  Growing up in Massillon, Ohio Steve always wanted to attend Ohio State.  Once he did, his siblings followed.
Steve moved to Estero in 2007 after graduation. He enjoys most his family time, watching the Ohio State games or going to Disney with his wife, Lindsey and daughter Zoey.
Steve is an avid sports fan. He is a passionate fan of Manchester United, L.A. Lakers, and Pittsburgh Steelers and of course all things Ohio State.  He also enjoys playing golf and basketball in his spare time.
 Steve has always been a Buckeye throughout his life. Having the Buckeye spirit as a kid to becoming a Buckeye as an adult. His passion for The Ohio State University is now instilled in his daughter who will always shout at the tv "Go Bucks!" or finishes every O-H. Another future Buckeye draws near.